For months now, I have been pining to get a tattoo but for some reasons I have not decided on what to ink for myself. Where exactly to put it and when.
I have searched on the internet concerning some basic guidelines for getting a tattoo and safety advice.
BASIC GUIDELINES FOR GETTING A TATTOO
PICKING A DESIGN
Choose what you like! You have to live with your tattoo for the rest of your life. Discuss size & color with your artist to achieve the look you want. Sometimes it is better to leave artistic aspects of your tattoo up to the wisdom and experience of your chosen artist.
PLACEMENT OF DESIGN
Give the location of your tattoo considerable thought. It is there forever. If your concerns are for the sensation and level of discomfort involved, your artist should be happy to discuss these aspects with you.
CHOICE OF ARTIST
This subject is probably the most personal of all aspects of receiving a tattoo. If you're considering a tattoo, find the artist that fulfills your needs art-wise as well as in professionalism, price and last but not least, personality. All should make you feel comfortable.
PAYING THE PRICE!
Absolutely don't shop around for "the best price". This is a trade in which you should see examples of the artist's work and question their knowledge. This is not a trade to be bartered with, you pay an hourly rate for time & expertise!
With the advent of many communicable diseases, some fatal, it has become necessary to institute certain isolation and sterilization procedures in the tattoo process to assure the public of a safe, risk-free tattoo. The following advice has been prepared by professional tattooists working with local, state and national health authorities.
1. Always insist that you see your tattooist remove a new needle & tube set-up from a sealed envelope immediately prior to your tattoo.
2. Be certain you see your tattooist pour a new ink supply into a new disposable container.
3. Make sure your artist puts on a new pair of disposable gloves before setting up tubes, needles and ink supplies.
4. Satisfy yourself that the shop furnishings & tattooist are clean & orderly in appearance; much like a medical facility.
5. Feel free to question the tattooist as to any of his sterile procedures & isolation techniques. Take time to observe them at work & do not hesitate to inquire about their experience & qualifications in the tattoo field.
6. If the tattooist is qualified professional, they will have no problem complying with standards above & beyond these simple guidelines.
7. If the artist or studio does not appear up to these standards or if they become evasive when questioned, seek out a professional tattooist.
reference:
http://www.safe-tattoos.com/pamphlets/basic.html
Check out my Boyfs tattoo.. left pic, a portrait of his Dad on his younger years that says Respect and Discipline and on his left his Mom with Love and Perseverance.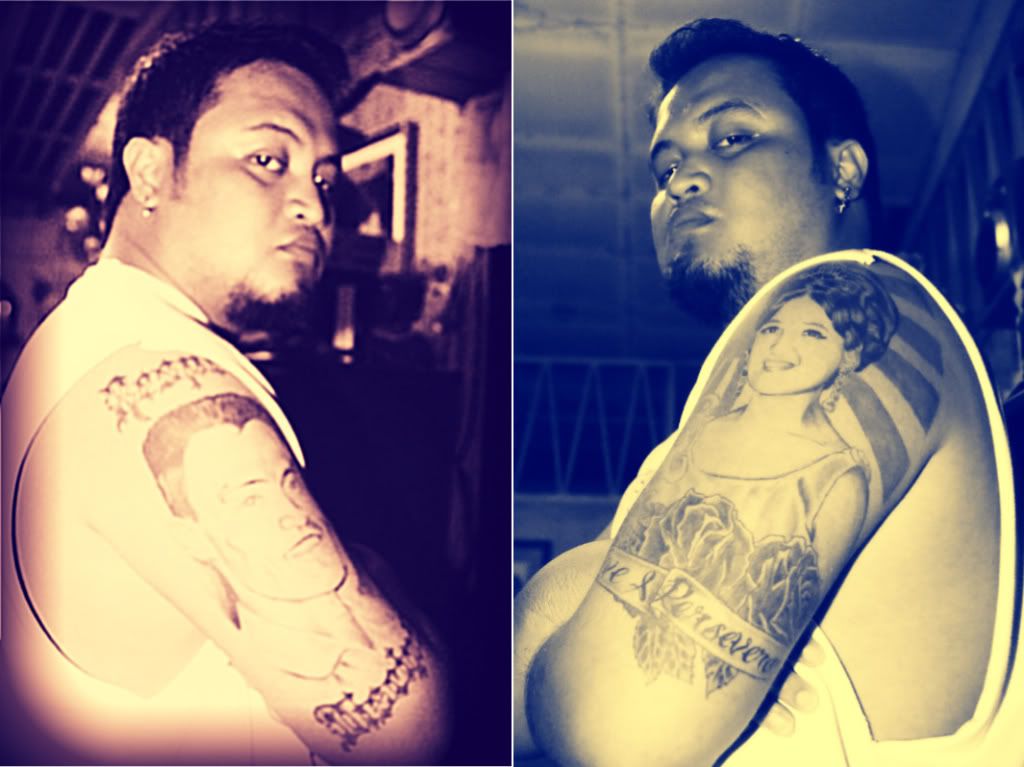 There it goes... Got to fix my mind which design to pick and decide as to where to put it, when? Ones I have my artist modify my design and maybe discuss the matter carefully and take into consideration the cost of getting one.